Sweet Life of Breakfast in Grenadines with Roasted Spiced Potatoes, Coconut Yogurt, Herbs, & Fried Egg
By Lauren Gerrie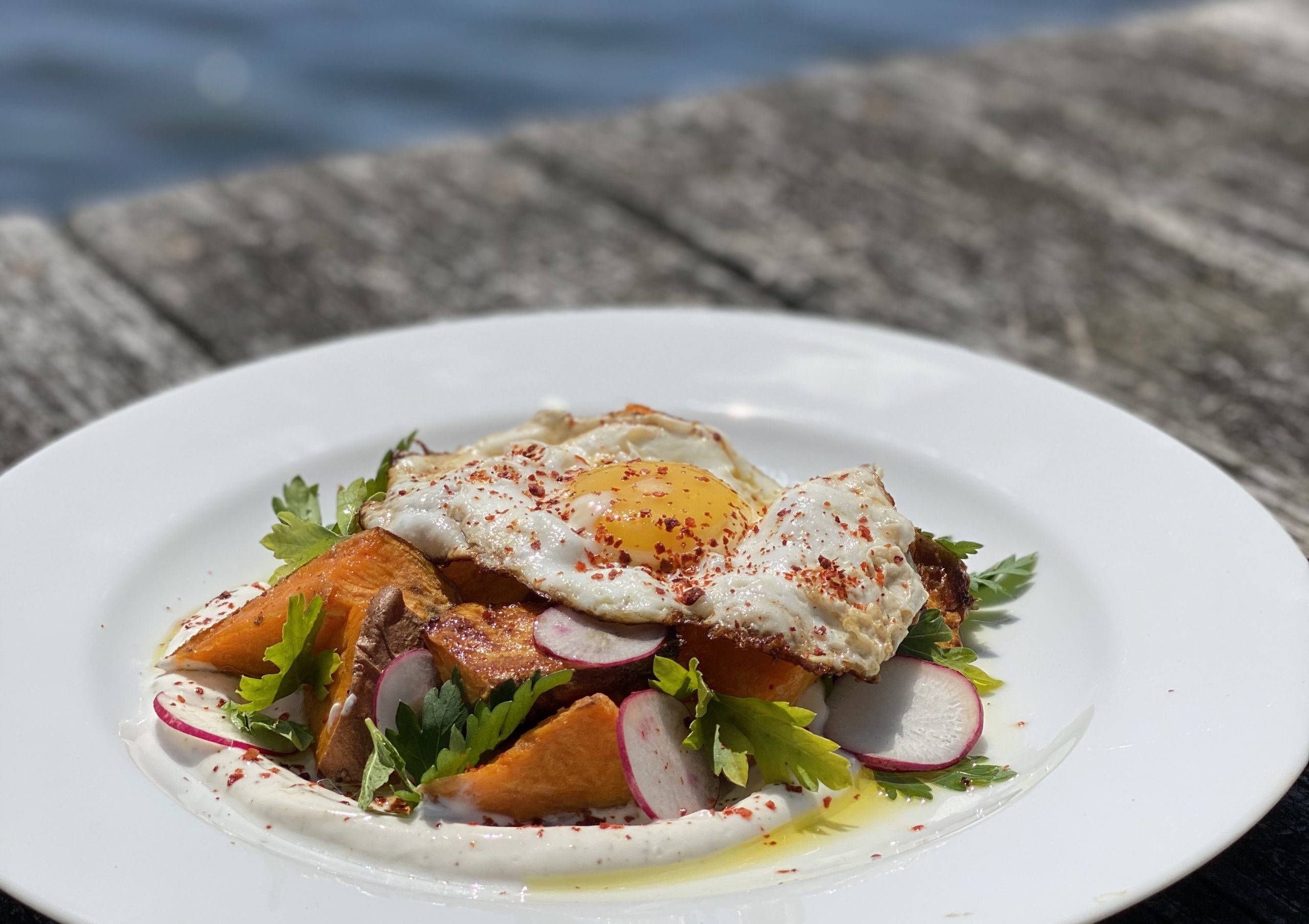 ROASTED SPICED SWEET POTATOES WITH CHILI OIL, COCONUT YOGURT, HERBS, & FRIED EGG.
Forever will there be a special place in my heart for Grenada and the Grenadines. Not only was it the itinerary for my maiden voyage with the Sailing Collective, but it is a location that I have returned to since and every time I fall deeper and deeper in love with the islands and their people.
Serves 8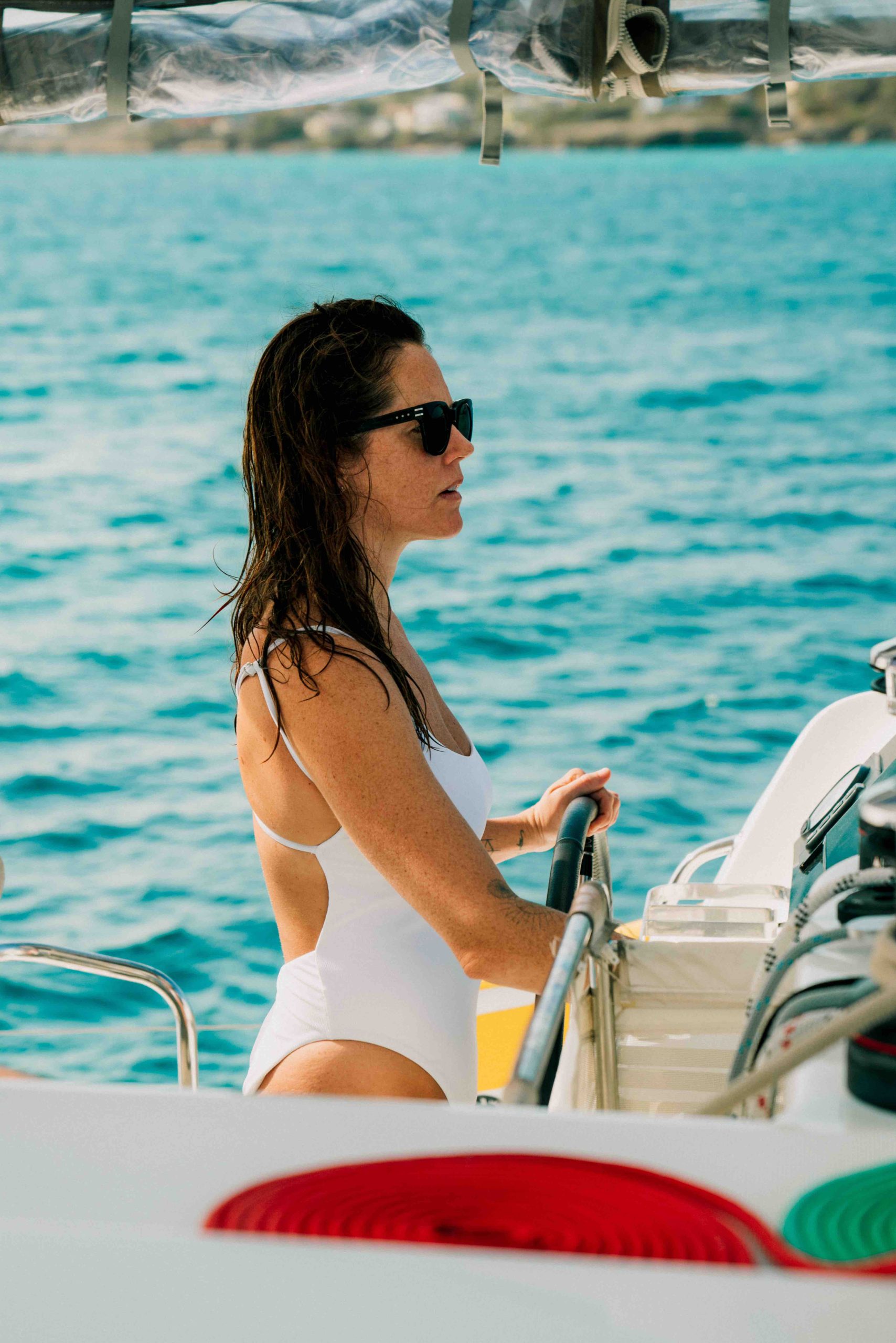 One can't help but give into the infectious spirit that runs throughout. Perhaps it's the hot humid days or the warming spices that permeate the air. Maybe its the brilliant sunshine or the cooling crystal clear oceans. The contagious joy found in the market places, the tiny fishing towns, the communal waters of the Grenadines are like no other!
I will never forget the first time I saw nutmeg & mace in it's natural form. As Grenada's largest agricultural exports it is a sight to be seen when bountifully displayed on every other vendor's table. Most of us know what nutmeg looks like, ugly little brown orbs grated and used sparingly to spike the holidays. But very few have seen the crimson webbing that engulfs the fruit known as the Aril which is better known as Mace. Both spices can be found in a plethora of baking and cocktail recipes, but the delicate seasoning is fantastic in savory dishes as well.
Breakfast is probably my favorite meal to prepare while sailing. I am a morning person so waking up with the sun, diving off of the boat, and starting my creative culinary day is a dream come true. The first meal of a week long trip is one I like to surprise and entice guests with. My way of saying, "Get ready, this trip is going to be so EPIC!" This dish features some of the Grenadines' finest, plus it's simple and beautiful.
Ingredients
---
4 Medium Sweet Potatoes- cleaned & cut (chunks or large dice)

1/4 Cup Coconut Oil

1/4 Cup Honey

1/4 Teaspoon Nutmeg (freshly grated)

1/8 Teaspoon Mace (freshly ground)

1 Teaspoon Salt (pink, sea, or kosher)

2 Tablespoons Baron's West Indian Hot Sauce or your favorite hot sauce

1/2 Cup Olive Oil

1/3 Cup Coconut Yogurt (per person)

4 Tablespoons Butter

8 Local Eggs

3 Radish (shaved/sliced)

Maldon or Flake salt to finish

Fresh Herbs; Parsley, Mint, Cilantro (leaves)

Chili Powder (optional garnish)

Lime Wedge (optional garnish)
Preparation
---
Step 1

Preheat oven to 375˚ and line a baking sheet with aluminum foil

Step 2

In a bowl, mix together the sweet potatoes, coconut oil, honey, nutmeg, mace, and salt.

Step 3

Lay the dressed sweet potatoes out in a single layer on the lined sheet tray and roast for about 25 minutes or until tender and golden brown. Once cooked, turn the oven off and leave the potatoes in to keep warm.

Step 4

In the same mixing bowl you tossed the potatoes, add the hot sauce and olive oil and stir with a fork or whisk to combine.

Step 5

If you have a pan large enough to fit 8 eggs go for it, otherwise do the following in batches:

Melt butter and crack eggs into medium high heat pan, fry eggs for about 3 minutes or until the whites are set. Remove from pan onto a paper towel to collect any extra grease.

Step 6

You can either present this on a large platter or on individual plates, I think it is nice to present single servings because they look gorgeous and make the guests feel special…

Step 7

In a circular motion, spread the coconut yogurt onto the base of the plate. Then place a healthy portion of roasted sweet potatoes on top. Top with fried egg, maldon salt, drizzle chili oil, and garnish with sliced radish and fresh herbs. For a tangy finish add a lime wedge and squeeze over top.