IN THE SHOULDER OF THE LAMB: A Braise with Pomegranate Molasses & Plums
By Flannery Klette-Kolton
BRAISED LAMB SHOULDER WITH POMEGRANATE MOLASSES & PLUMS
Athens has this grit, like Hell's Kitchen in the 70's, with winding concrete streets covered top to bottom in endless grafiti and many a dark mysterious alleyway leading everywhere and nowhere. Almost all of the structures, new and old, are built from stone or cement. The city holds a feeling that anything is possible, and that anything could be found or forgotten.
Serves 6-8
Amidst the hustle and bustle, smack dab in the center, above the acropolis and below a major rotary is the fresh market.  The market spills out onto the nearby streets into specialty shops selling spices, nuts, honey, charcuterie, eggs, cheese and produce.  But underneath the roof of the original market, which feels like a massive garage, are about thirty vendors selling fresh seafood and local meats.  There are several blocks worth of individual butchers' cases full of different kinds of meat, hanging, half butchered, awaiting purchase and consumption.  Aside from one or two poultry only vendors, everyone is selling lamb.
Greece is the land of lamb.  You would be hard pressed to find a restaurant in Greece that did not have lamb on the menu, be it Moussaka or Grilled Lamb Chops or Kebab.  Several places exclusively offer little baby lamb chops by the kilo, like you just landed in the carnivore's version of the lollipop guild, doing a happy dance as you chow down on the original meat on a stick.  The lamb is affordable, the animals well cared for, and the meat is generally high quality.   
Though lamb chops are my first favorite food, and the first dish I learned to help my mother prepare when I was 4, they are not my favorite to cook on the boat.  They take up a lot of precious space in the tiny refrigerator, require higher hotter faster heat to cook properly then our boat stove and pans provide, and as mentioned earlier, you can get them literally anywhere.  Wanting to create something delicious, boat friendly, and more unique then what my guests could get readily on land, I developed this braised lamb dish.  It was inspired by the braised lamb shank with apricots and prunes in New York City at Cafe Mogador, an East Village institution.  The prunes bring out a subtle sweetness from the meat.  Unlike Mogador, I finish mine with the tangy pomegranate molasses, brightening the dish, as the acidity cuts through the rich unctuous texture and flavor of the lamb.  Also, I can throw it in the oven and forget about it for several hours, which is handy when you are on a monohull at a 60 degree tilt hauling ass to your last anchorage before dark and cannot get below deck to prep.
– Chef Flannery Klette-Kolton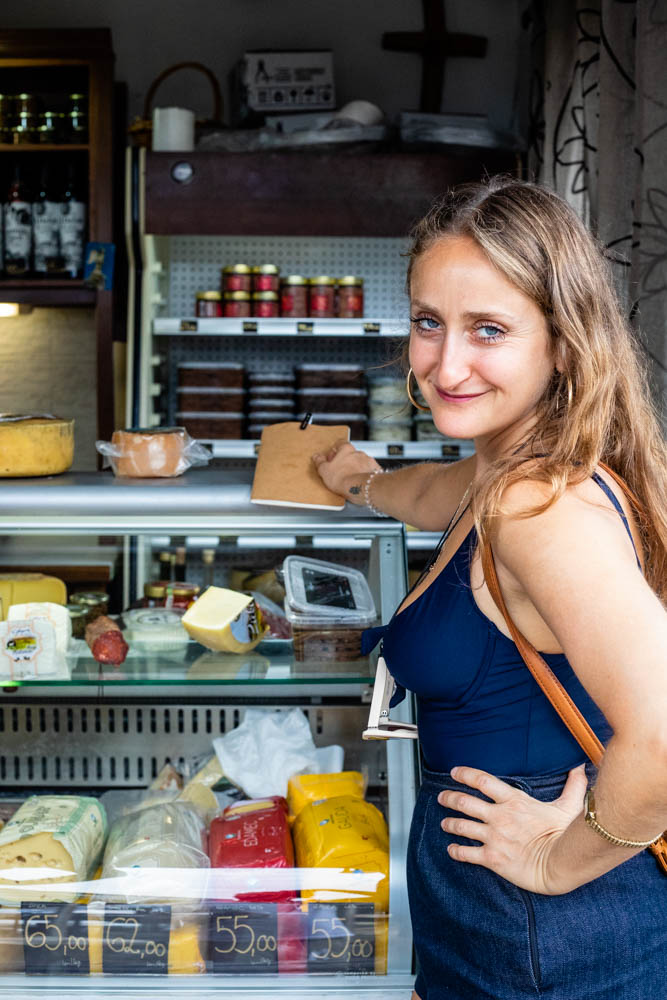 Ingredients
---
1 bone in Lamb Shoulder, chopped into 3 inch hunks

3 T dried Mediterranean Herb Medley (oregano, parsley, rosemary, thyme, basil)

Salt (pink, sea, or kosher)

Cracked Pepper

Extra Virgin Olive Oil

1 quart Pomegranate Juice (you can sub diluted orange juice)

10 Prunes

10 Garlic Cloves

1 cinnamon stick

FOR GARNISH:

2 T Pomegranate molasses (if you cannot find pomegranate molasses you can reduce pomegranate juice until it coats the back of a spoon)

1 Fresh plum, sliced

Torn Fresh Mint

Maldon Salt
Preparation
---
Step 1

Preheat your oven to 300 and remove lamb from the fridge.  Pat the lamb dry with some paper towels.  Pro tip: you always want to take your meat out at least 30 minutes before you cook it so that it can come to temperature.

Step 2

Season lamb with dried herb mix, salt and pepper.  You can do this right on the butcher paper for easy cleanup, or you can season the lamb in your roasting pan you are going to use.

Step 3

Preheat a skillet on high heat, drizzle with oil to coat and place seasoned lamb in the pan.  Sear lamb on all sides.  Each side will take about 2 minutes.  You may have to do two batches.  Do not skip this step! This seals in the flavor!!  When the meat is seared remove from pan and place in a roasting dish.

Step 4

Deglaze the skillet with your juice scraping all the tasty bits from the bottom.  When the liquid starts to simmer, pour the liquid into the roasting pan with the lamb and add the prunes, garlic, and the cinnamon stick.

Step 5

Cover the roasting pan with foil and place in the oven (preheated to 300 degrees).  Roast for 3 hours or until the meat is falling off the bone. Yum.

Step 6

When the meat is ready, strain the meat and goodies from the cooking liquid and place on a platter.  Toss the cinnamon stick.  You can reduce the cooking liquid if you desire to have it on the side.  I like to serve mine atop a carrot ginger puree as photographed here, but you do you. 

Step 7

Garnish the lamb with a drizzle of pomegranate molasses, sliced fresh plums, torn mint, and Maldon salt.