Travel
A Story of the Dodecanese Islands
Sailor's setting out to voyage in the Dodecanese are seeking to understand the spirit of this archipelago, interact with its diverse community of locals and enjoy its simplistic beauty.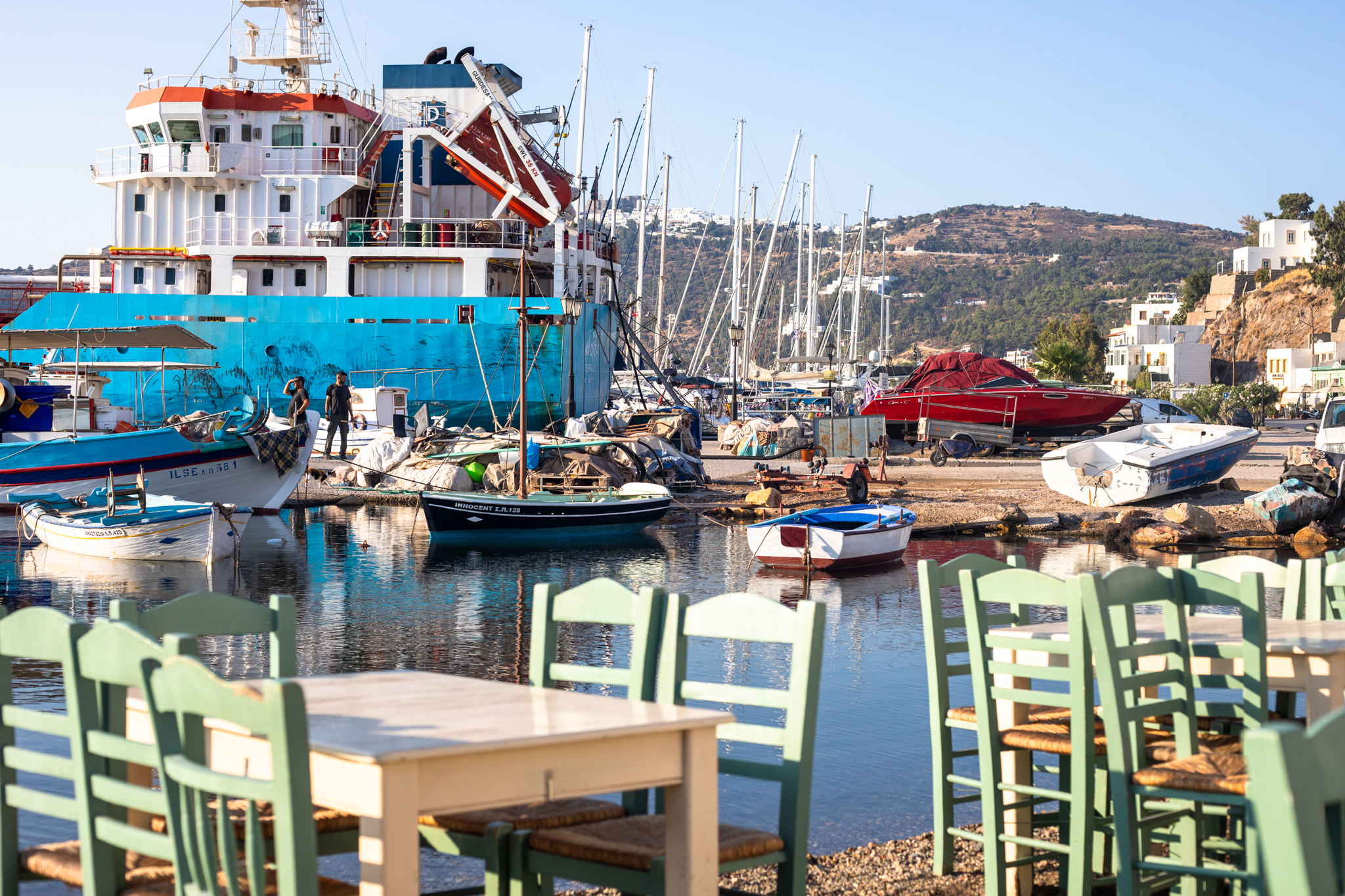 Dodecanese Archipelago is a group of islands living peacefully in the Aegean Sea just miles from southern Turkey and a wild paradise home to dramatic and exciting landscapes with every island as unique as the last. Drastic cliffs slope down into the sea with protected anchorages scattered throughout the rural and isolated sailing itinerary. Fifteen picturesque islands with a mix of glamour and rustic vibes make up this archipelago.
Prevailing summer winds come from the north and are referred to by sailors as the Maltimi. The islands in the archipelago offer good protection and strong holding even during stronger winds, the Dodecanese has south facing coves that allow sailors to find refuge. When these winds occur, us sailors will inspect the circumstances of their anchorage and their boat while noting that gusts of about 50 knots can bring down even significantly strong boats. We are always searching for protected coves, while constantly rotating the depth and state of the underlying seafloor—which can often become more dangerous than the actual winds if the anchor drags during the night. Because of the layout of these islands, which lie in a chain that curves down the Aegean Turkish coast, sailors normally choose to cruise along the leeward edge while ducking behind the sheer, vast cliffs that cascade above the coastline. Knowing there are safe harbor and protection to be found close by allows sailors to rest easy. Temperatures stay semi-warm all year and most boats are tied up and docked for the winter months. Those of us willing to sail during the off-season will find unpredictability with the Maltimi and recognizable differences in the sea state. Sometimes in the spring, rare but strong easterly sea breezes funnel over the Turkish coastline and create large waves and swells. Perhaps locals know what to do, but visitors cruising by can easily be caught off guard and believe they're anchored in a safe harbor situation.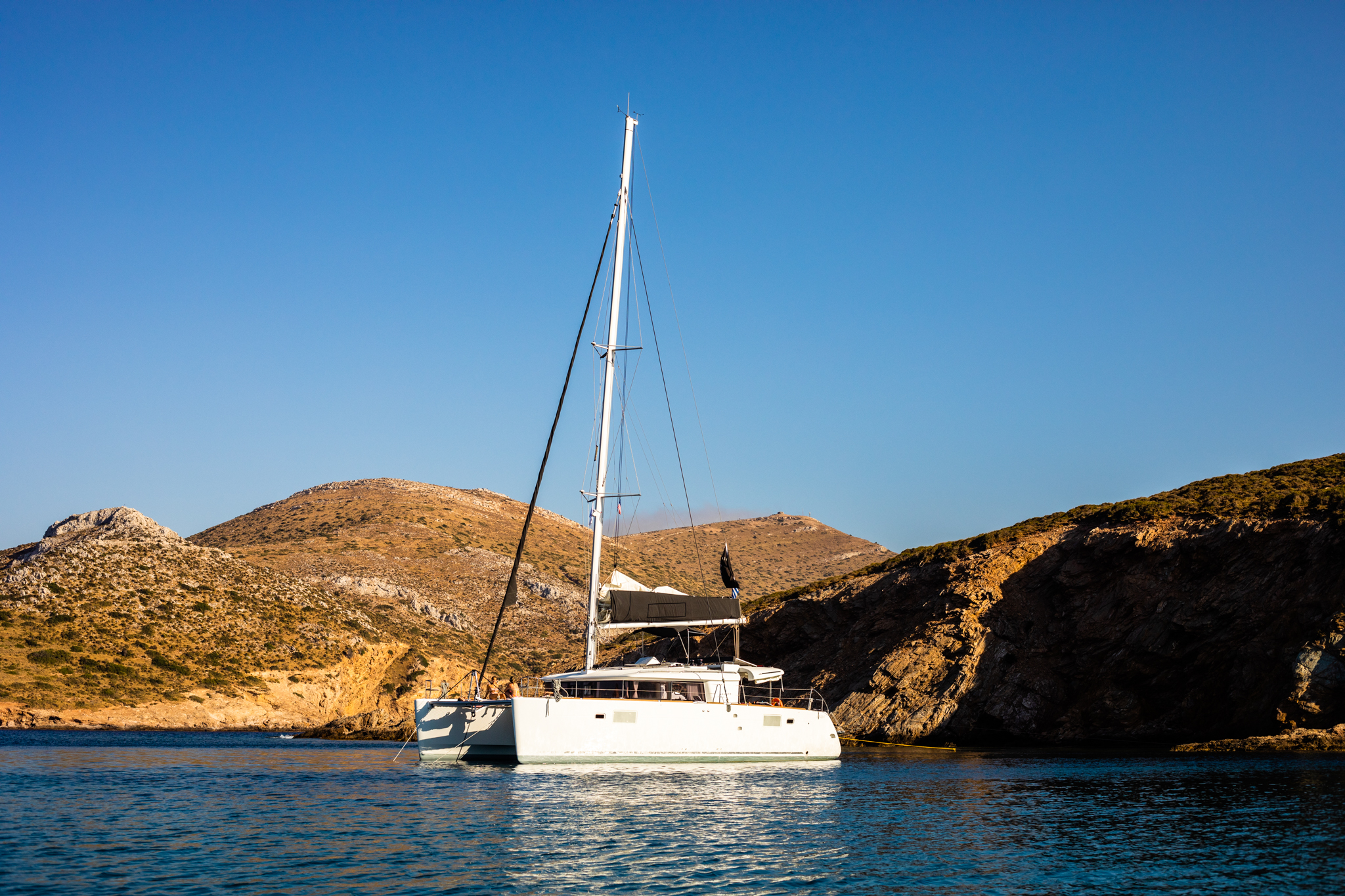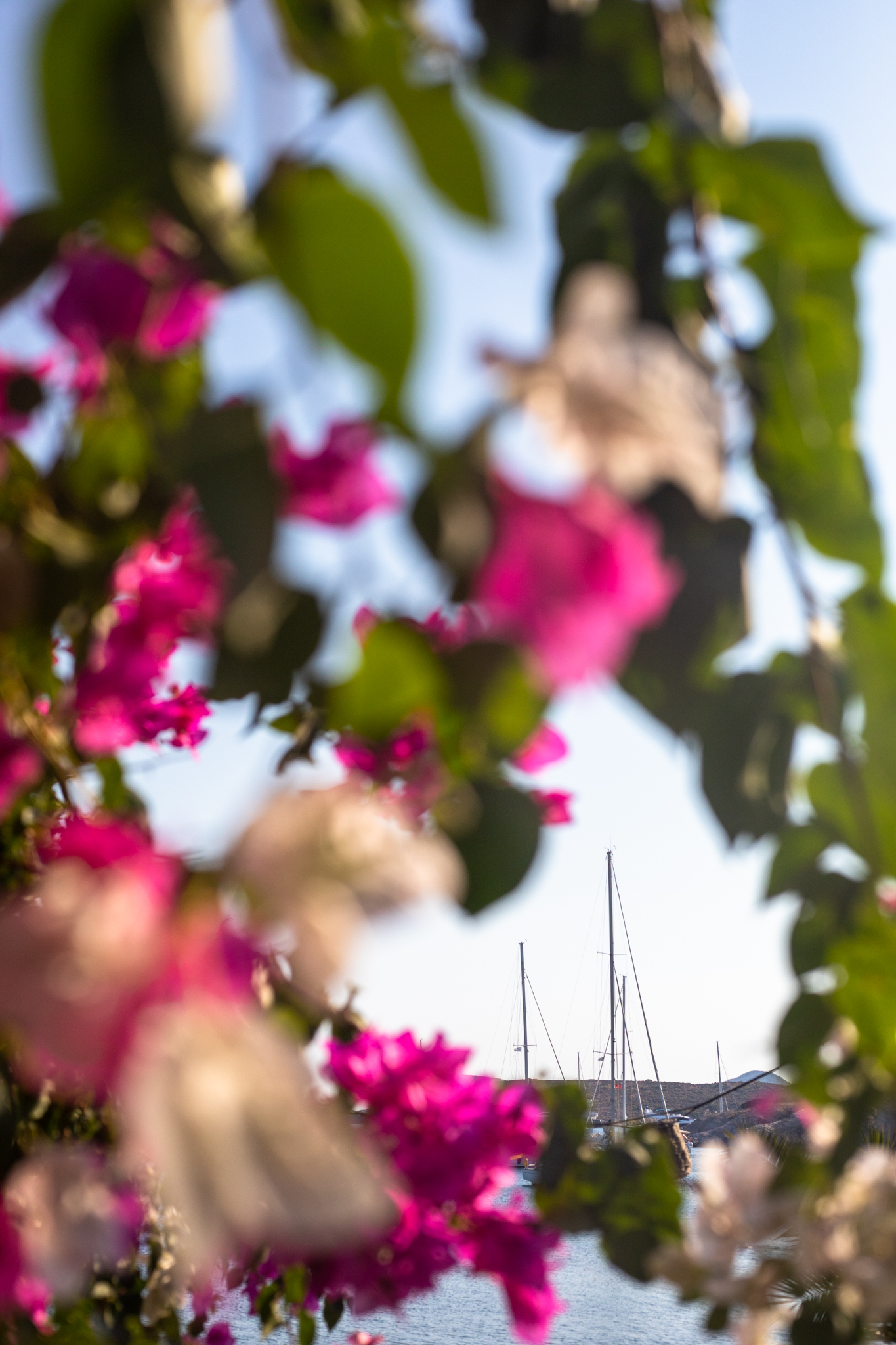 Before the first night, skippers go over nuances of the voyage–it's important for us to make observations on how the boat is rigged and how it handles in high winds or rough seas. Sailing onward, we motor to port and find our home for the night. The first evening is spent in the central northeast part of Kalymnos, in a cove called Palionis. Clearly a cove for locals and sailors only, we were drawn to a particularly dramatic cliff that surrounded this inlet and protected us from northern winds. After situating the boat for the night, we go ashore to explore where a few residents and three small restaurants welcomed us. This island offered nothing fancy—it was all about traditional, low-key food, genuine conversations and beachfront views. Dinner is served at a sandy beachfront restaurant with a mix of sailors and locals sharing stories over beers.
Sailors come ashore to seaside restaurants and bars to get the woes off their chests and commiserate with other captains. They chat, discuss where they've been, what they've seen, and shoot the breeze. There's a naturally shared camaraderie between captains that's all part of the sailing community. After chatting and swapping stories for hours, we head back to the boat feeling sleepy and full. A few new cruisers appeared nearby, who were joining us for the night. Other boats are secured with sterns facing along the cliff face, while a few had dropped anchor beside the road with enough distance to not swing into their fellow voyagers if the nightly winds decided to rage. Winds naturally pick up in the evening hours and the nights can be blustery, with gusts pushing up to 25 to 35 knots. Good skippers will always plunge into the sea to dive on their anchor and check the ground tackle of their mooring, in the event they decide to pick up a buoy before tucking in for the night. No sailor wants to wake up to the boat drifting away or hitting the rocks.
After a safe and secure night, we take off bright and early with the sunrise, to sail onward along the coast of Kalymnos. Our stern was bound for Nisos, just north of the island Leros. On this route, many boat-less hidden coves can be explored along the way. When arriving at the first island, it's easy to see these inlets are incredibly remote. There are no roads to be seen—only a donkey path leading into town. As we motored closer, we saw the homestead of a hermit living a completely isolated lifestyle. He became apprehensive as we approached, so we went to the other side of the cove for exploration. Sailing past this kind of environment, it's difficult to believe places like this exist so close to the bustling island of Kos. This living situation here seems lightyears away from the chaotic tourism that can be seen just miles away.
It's exhilarating to know that such wild and untouched places still exist. We anchor in another inlet and swim ashore to be greeted by a large herd of wild goats with 2000 year old ancient ruins as their home. After explorations and with miles to cover before reaching our home for the night, we lift anchor and continued to sail along the western coastline of Leros on a beautiful starboard tack with 15 knots of wind in our sails. Dropping anchor along a cliff wall with stern lines tied back to the seaway, we choose a spot that was just a short dingy ride into town, with no other boats in sight. Only one restaurant lives on the island of Nsis. From our port-side, we saw a pristine beach with a single olive tree growing out of the sand and one goat taking an afternoon nap underneath the shade—such a picturesque, traditional Greek setting. Though people have been coming to the main towns of the Dodecanese for thousands of years, just a few nautical miles these tiny, nearly uninhabited villages still exist. Such wildly undiscovered places are usually visited only by recreational cruisers. For sailors, there's a distinct feeling of gratitude that exists for the opportunity to visit such places that many people will never know exist.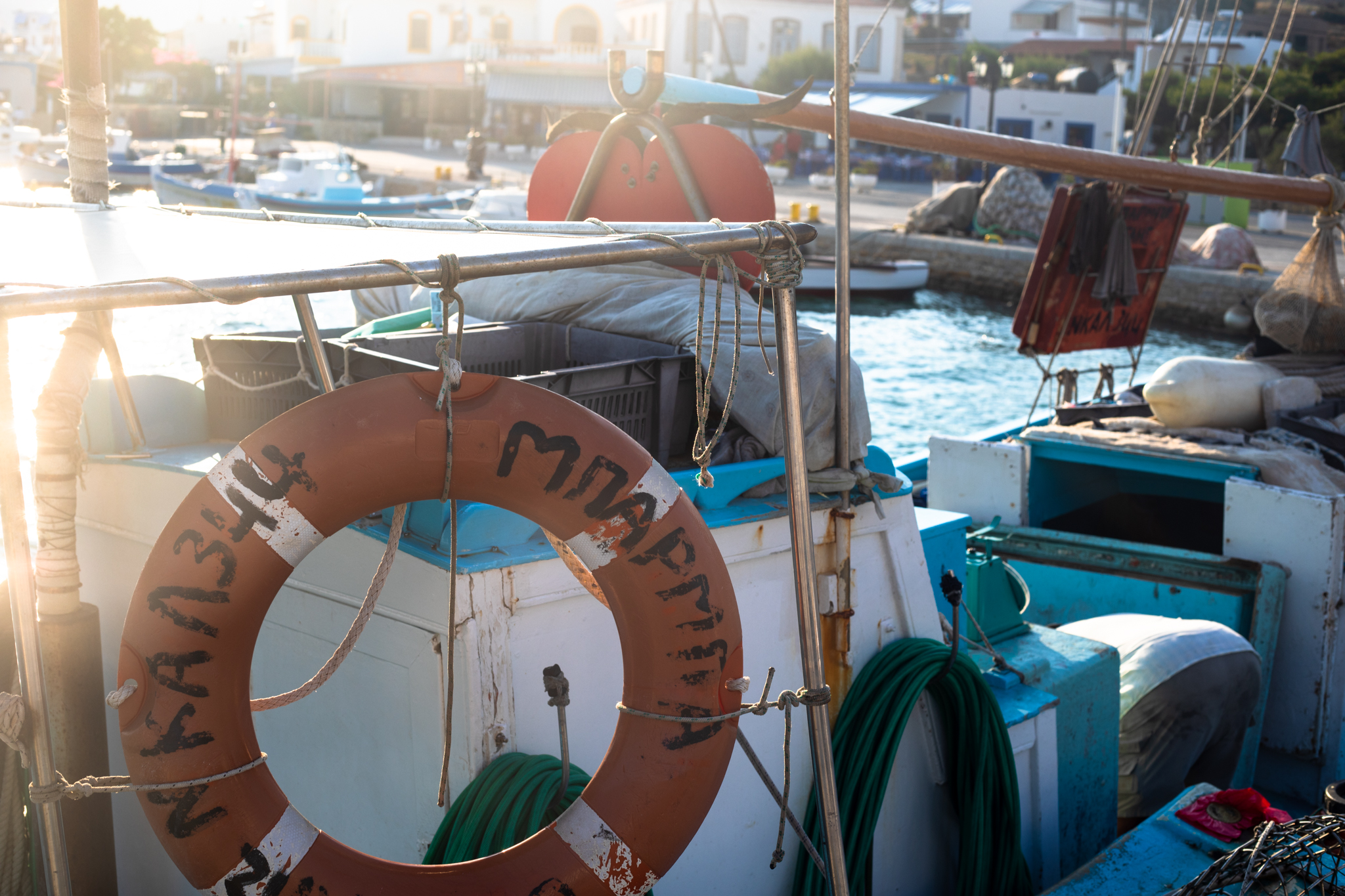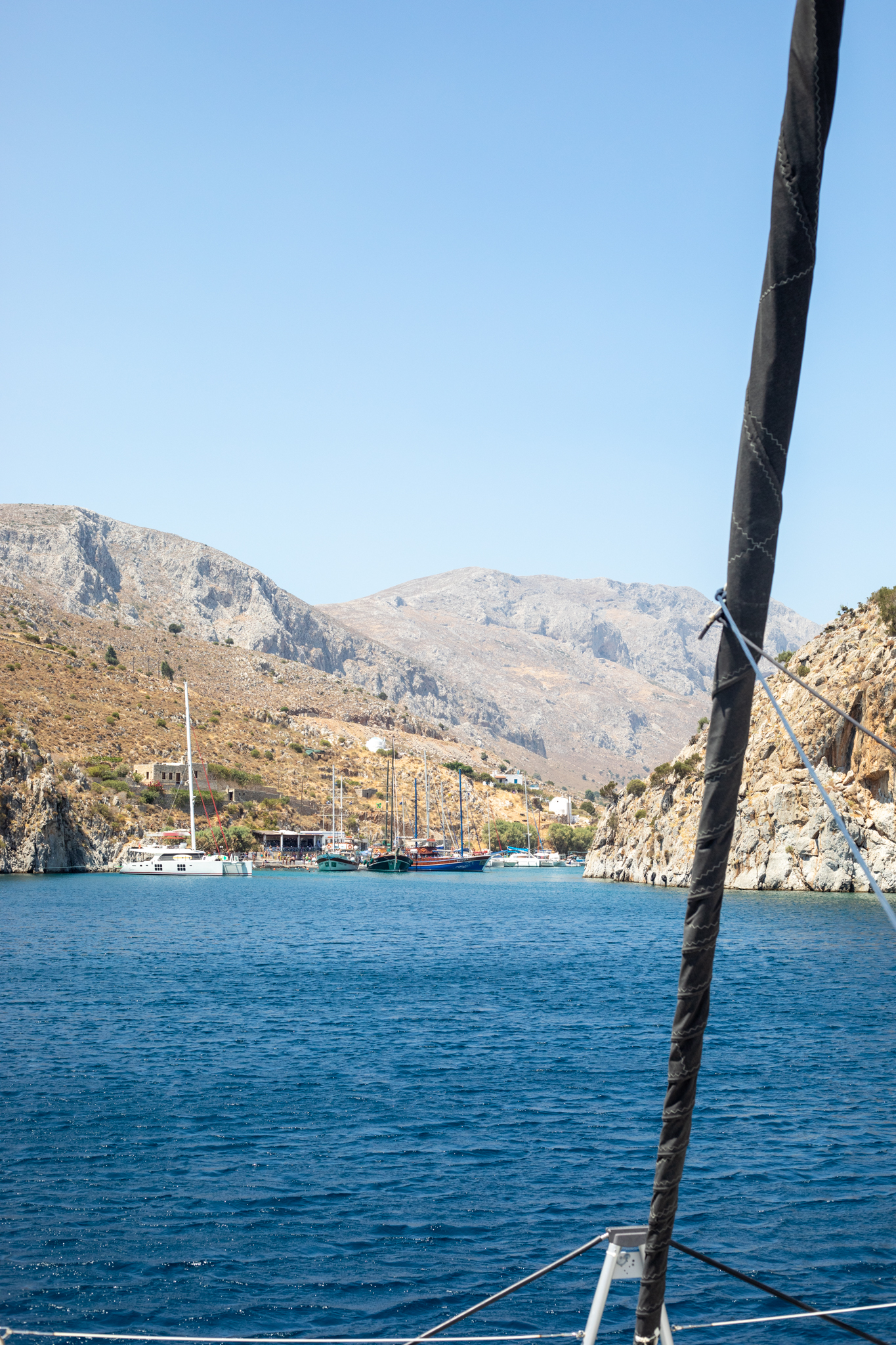 Starting to feel the journey's end coming nearer, we wake up early and headed Leros, our last spot on the itinerary. While there are no great ruins to be found, Leros has a charm all its own that comes from its dramatic landscapes, brown-hued interior and fertile valleys. Much of this island's income is from their practice of sending ships to North Africa every year to fish for sponges. Less harsh than its sister island Kalymnos, Leros boasts rounded hills and lush countryside that's full of green forests. Hibiscus, jasmine, bougainvillea and oleander are grown throughout. Upon anchoring, there's a beautiful spot called Pantelis on the eastern side that offers protection from the Maltimi. Boats can anchor close to the harbor, or drop cliffside just south of the harbor entrance.
This option is exceptionally picturesque, with views of the idyllic Greek village ahead and windmills blowing on the hill. Our boat had 80 meters of anchor chain which is a huge luxury. Most boats typically have around 50 meters, which means sailors would aim to anchor in water around 15 meters of water. Here, off the coast of Pantelis we dropped anchor with 45 meters of chain in 9 meters of water—an aggressive ratio with normal weather conditions. The Maltimi here is typically very consistent and comes from the north or northwest with a steady 20-40 knots, depending on how vicious Athins (the god of wind) is feeling. Heading ashore to explore, we found that Leros is a classic repertoire of secret beaches, laid back tavernas and 20th-century Italian influences that make it seem unusual, in the best way. The history of these islands is extraordinary, thanks to Mussolini. The Italians took over in 1912, and Mussolini poured money into the islands to make Leros his base for imperial ambitions. A million tourist miles away from its sister islands of Kos and Rhodes, Leros often slips under the radar. Leros offers more benevolent landscapes and a serene attitude that makes this little-visited place inviting. After an exceptional last day of discovering a still-hidden gem of the Dodecanese, it's difficult to think about the notion of leaving a place. This often feels as if you've made a new friend and have to say goodbye so soon. But knowing that we'll one day come back to create stronger bonds with the Dodecanese makes the leaving feel a bit easier. 
Every sailor's voyage to these islands will differ from their fellow sailors. One of the interesting elements of cruising an itinerary is the sailing network that forms in shared waterways. Often, we see each other from island to island as their boats are sailing in the same seas. Faces of other crew members become familiar, while experiences and information are shared. Returning to port after a week of discovery creates such a feeling of nostalgia for what was just experienced, as well as future excitement for coming back one day to explore these same waters again. Cruisers with unlimited time could spend months discovering this network of islands–each new cove lends itself to different kind of natural beauty and enthusiastic challenges for a sailor. Leaving such beautiful islands brings up such mixed feelings but mostly the notion of feeling lucky for the opportunity to explore and discover new these lands.